Angels—messengers from God—appear frequently in Scripture, but only Michael, Gabriel and Raphael are named.
The memorials of Gabriel (March 24) and Raphael (October 24) were added to the Roman calendar in 1921. The 1970 revision of the calendar joined their feasts to Michael's today, formerly known as Michaelmas Day.

Angels are pure, created spirits. The name angel means servant or messenger of God. Angels are celestial or heavenly beings, on a higher order than human beings. Angels have no bodies and do not depend on matter for their existence or activity. They are distinct from saints, which men can become. Angels have intellect and will and are immortal. They are a vast multitude, but each is an individual person. Archangels are on the the nice choirs of angels listed in the Bible.
Archangels are one of the nine choirs of angels listed in the Bible.
In ascending order, the choirs or classes are 1) Angels, 2) Archangels, 3) Principalities, 4) Powers, 5) Virtues, 6) Dominations, 7) Thrones, 8) Cherubim, and 9) Seraphim.
Pope St. Gregory the Great distinguishes between angels and archangels: "Those who deliver messages of lesser importance are called angels; and those who proclaim messages of supreme importance are called archangels."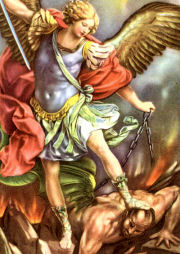 The Archangel Michael Battles Satan
The name of the archangel Michael means, in Hebrew, who is like unto God? and he is also known as "the prince of the heavenly host." He is usually pictured as a strong warrior, dressed in armor and wearing sandals. His name appears in Scripture four times, twice in the Book of Daniel, and once each in the Epistle of St. Jude and the Book of Revelation. From Revelation we learn of the battle in heaven, with St. Michael and his angels combatting Lucifer and the other fallen angels (or devils). We invoke St. Michael to help us in our fight against Satan; to rescue souls from Satan, especially at the hour of death; to be the champion of the Jews in the Old Testament and now Christians; and to bring souls to judgment.
Devotion to Michael is the oldest angelic devotion, rising in the East in the fourth century. The Church in the West began to observe a feast honoring Michael and the angels in the fifth century.
Patron: Against temptations; against powers of evil; artists; bakers; bankers; battle; boatmen; cemeteries; coopers; endangered children; dying; Emergency Medical Technicians; fencing; grocers; hatmakers; holy death; knights; mariners; mountaineers; paramedics; paratroopers; police officers; radiologists; sailors; the sick; security forces; soldiers; against storms at sea; swordsmiths; those in need of protection; Brussels, Belgium; Caltanissett, Sicily; Cornwall, England; and more.
Symbols:

Angel with wings; dressed in armour; lance and shield; scales; shown weighing souls; millstone; piercing dragon or devil; banner charged with a dove; symbolic colors orange or gold.
Annunciation by Paolo de Matteis, 1712.
The lily in the angel's hand is symbolic of Mary's virginity in Marian art.
St. Gabriel's name means "God is my strength". Biblically he appears three times as a messenger. He had been sent to Daniel to explain a vision concerning the Messiah. He appeared to Zachary when he was offering incense in the Temple, to foretell the birth of his son, St. John the Baptist. St. Gabriel is most known as the angel chosen by God to be the messenger of the Annunciation, to announce to mankind the mystery of the Incarnation.
The angel's salutation to our Lady, so simple and yet so full of meaning, Hail Mary, full of grace, has become the constant and familiar prayer of all Christian people.
Patron:

Ambassadors; broadcasting; childbirth; clergy; communications; diplomats; messengers; philatelists; postal workers; public relations; radio workers; secular clergy; stamp collectors; telecommunications; Portugal; Archdiocese of Seattle, Washington.
Symbols:

Archangel; sceptre and lily; MR or AM shield; lantern; mirror; olive branch; scroll with words Ave Maria Gratia Plena; Resurrection trumpet; shield; spear; lily; symbolic colors, silver or blue.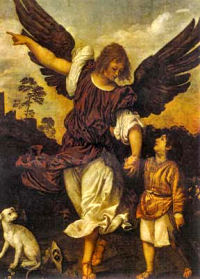 Our knowledge of the Archangel Raphael comes to us from the book of Tobit. His mission as wonderful healer and fellow traveller with the youthful Tobias has caused him to be invoked for journeys and at critical moments in life. Tradition also holds that Raphael is the angel that stirred the waters at the healing sheep pool in Bethesda. His name means "God has healed".
Patron:

Blind; bodily ills; counselors; druggists; eye problems; guardian angels; happy meetings; healers; health inspectors; health technicians; love; lovers; mental illness; nurses; pharmacists; physicians; shepherds; against sickness; therapists; travellers; young people; young people leaving home for the first time; and more.
Symbols:

Staff; wallet and fish; staff and gourd; archangel; young man carrying a staff; young man carrying a fish; walking with Tobias; holding a bottle or flask; symbolic colors, gray or yellow.
Each of these archangels performs a different mission in Scripture: Michael protects; Gabriel announces; Raphael guides. Earlier belief that inexplicable events were due to the actions of spiritual beings has given way to a scientific world-view and a different sense of cause and effect. Yet believers still experience God's protection, communication and guidance in ways which defy description. We cannot dismiss angels too lightly.
"The question of how many angels could dance on the point of a pin no longer is absurd in molecular physics, with its discovery of how broad that point actually is, and what part invisible electronic 'messengers' play in the dance of life" (Lewis Mumford).
Prayer:
God, with great wisdom, You direct the ministry of Angels and men. Grant that those who always minister to You in heaven may defend us during our life on earth. Amen.